The Beach Venue 
The Beach Venue sits just a stone's throw to the East of Palace Pier. It's the main hub of the festival, bringing together two of our largest stages, along with food stalls, bars and extra outdoor performance areas. It's right on the pebbles and the perfect spot for summertime at the seaside. The main stage is called The Factory and the second stage, Lunars. Between the two sits, The Disco Hut which will be home to the best of outdoor funk.
This is where you'll find the wristband exchange for the whole festival, so will be your first port of call! Bring your ticket down here on Madeira Drive, BN2 1TB, to start your Funk & Soul Weekend!
Patterns
Just a little further up the beach, walking back towards the pier, is Patterns. We're taking it over during the day for both Friday and Sunday. A hub of Brighton's nightlife, it's got everything from summery chill-out areas on the terrace to the major dance-floor space downstairs.
Volks
Directly across from our beach venue is Volks. Another of Brighton's nightlife staples, it's right in the heart of Madeira Drive and will be home to our Record Fair along with a big DJ space and plenty of dancefloor.
The Arch
Walk a little further along the beach and just past the pier and you'll come to The Arch. It's famous for its urban and underground music scene and we're excited to be bringing some of our favourite label takeovers and some big dancefloor fillers to the venue.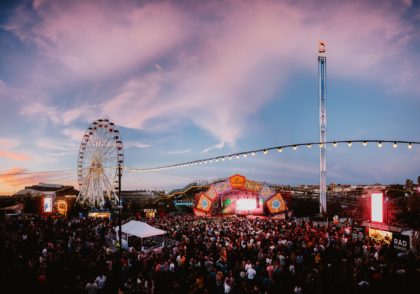 Just 70 minutes from London, Dreamland in Margate is the perfect setting for The Funk & Soul Weekender.
The picture perfect, 'all-you-can-treat' seaside sensation, your one stop shop of culture, food, festival fun and must-try rides.
Dreamland is the pride of Margate, the UK's unofficial capital of cool. And so much more than just an amusement park. Dreamland is where 'age' is left at the gate. Strap on some roller skates or get interactive with art exhibits, alongside all your classic seaside food favourites. Don't forget to hold that smile as you're waltzed, flung or dizzied on one of 25 gum-flashing rides, because around every (rollercoaster) corner could be your next most 'liked' Insta post.
The venue has more than 25 rides, classics old and so whether you're looking to thrill or chill, it's the place to find your smile, over and over again. Enjoy the music, the rides and the vibes, then watch the sun go down with a frosty one in the Roof Top Bar.
Dreamland is fast becoming UK's coolest music venue. Nile Rodgers and Chic and Gorillaz have sold them out (in a good way) and the big names keep on coming as The Margate Summer Series takes residence in 2022.